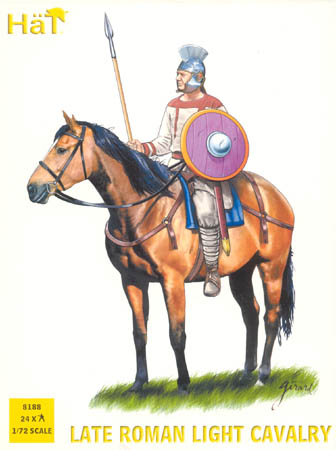 Click images for PSR reviews
My latest acquisitions for my late Roman / Germanic barbarian project are HaT's late Roman Light Cavalry and Italeri's 'Gothian' Cavalry.
The first was an internet purchase from the
Drum & Flag
ebay shop while the second was an impulse purchase while killing some time in the city last week, not expecting to find anything remotely related to my preferred periods. I'd actually gone into the
Victorian Hobby Centre
looking to buy some paint, but decided to check the 1/72nd figures shelves just in case. Previously, this shop had a very limited selection catering mainly to the WWII collector. The shop historically was dedicated to the aeroplane and railway modeler, but with a change in management and refurbishment, they seem to have expanded their range, including even the much loved (by me anyway!)
HaT French Infantry 1808-1812 set 8095!
The HaT set is just brilliant with crisply moulded figures with no flash. They aren't as detailed as say Zvezda or Italeri, but the sculpting is historically accurate and reasonable, withou the odd poses that spoil Italeri figures.
As I already mentioned, Italeri always spoil their otherwise brilliant production values with some clunky poses or just outright stupid mistakes and the Gothian cavalry is no exception. While the figures are useable for my purposes, anachronistic mistakes like giving the riders stirrups would make the stickler think twice. The figure brandishing his sword looks like he's threatening his enemies with a table knife, so he'll be a candidate for conversion. The figures' spears are all spear-like, but as some are supposed to be flinging javelins, they'll have to be shortened to make them more javelin-like.